Top 10 adult anime with mostly sexual content, for you to enjoy some spicy anime. ( 18+)
Here is the list of the Sexual anime Content:
1. Kanakon
If you're an anime fan, you'd already know about this show. The story follows a young boy who draws the attention of supernatural beings. While his life is far away from being a normal boy, he has to attend high school Chizuru, and Nozomu, a fox, and a wolf spirit turn his life upside down. The show is based on Katsumi Nishino's novel series, 'Kanokon: The Girl Who Cried Fox' features a number of hot semi-nude scenes that can leave viewers wishing for more. The series was launched recently and has become a public favorite immediately. It stands as top most anime for sexual content.
2. Kiss x Sis
If you're into extreme weirdness when it comes to sexual arousement, this one's for you. This is a series that revolves around Keita Suminoe and his twin stepsisters who share an erotic relationship growing up. The show is based on in and around the time when Keita is in high school and trying to focus on his exams, but of course, his twins are here to distract him when they no longer want to have a platonic relationship with him. The series was launched in the year 2010. It stands at second place for most anime for sexual content.
3. Air Gear
Going back to the early 2000s, Air Gear is the one that everyone would recall. While the show is restricted itself to sports, it also constantly shows the great chemistry between ecchi and hentai. The anime features a number of semi-nude scenes throughout its 25-episode run that can keep fans of the ecchi genre hooked. Air Gear had over 18 million copies in circulation as of August 2020.
4. Highschool of the Dead
Launched in the year 2010, the show showcases a lot of violence and bloodshed after a possible apocalypse where humans turn to zombies in an unprepared world. While this sounds pretty serious situation the has hot and curvaceous female characters and tons of erotic moments and the sexual innuendoes to top it all make 'Highschool of the Dead' a roller coaster ride that a mature audience will surely enjoy. The people have to fight and work hard to keep the world safe, so if you like a little bit of sci-fi and romance this is the perfect show for you to binge-watch.
5. Tsugumomo
Tsugumomo is a fantasy anime that follows Kazuya Kagami who is been saved from a supernatural being by Kiriha. The protagonist is introduced to a whole new world of supernatural beings like gods and spirits as he gets to know his partner better. While the series focuses on Japanese folklore and a number of other philosophical subjects, 'Tsugumomo' also has its fair share of bold and erotic moments that the audience would enjoy.
6. High School DxD
This a light series about the lives of high school girls epically about Issei, who is murdered by a fallen angel on his first date. He gets another chance at life and since then his life is on a rollercoaster including his love life. The fan following of this series is a lot, so much so that nobody can miss out on High School Dxd when talking about some spicy adult anime.
7. Mother of the Goddess Dormitory
Koushi Nagumo's life is falling apart after he is abandoned by his own father. With no home, he's found on streets by Mineru Wachi who rescues him and helps with a job as dormitory mother. Since he is desperate need he finds the residence and is completely blown away with the girls living there. While 'Mother of the Goddess' Dormitory' does not have an explicit sex scene, the characters get naked in front of Koushi in almost every other episode. Also, this is a very recent release and is loved by everyone.
8. Love to Lie Angle
The anime follows Nanabi Natsuno, a teenager who is back in Tokyo after several years and finds himself a job at a female-only dormitory. On her first day there, she accidentally encounters an unclothed girl whose beauty mesmerizes her, and Hanabi realizes that she is attracted to girls. But her other companions are competing to have her attention. Later on, as the story moves forward the couple explore each other's sexuality. This is a recent release that promotes homosexuality.
9. Queen's Blade
The anime series is set in ancient times where there is a queen who is fierce on-field battles. The twist is when the winner who wins with her enemies will ascend the throne. While this might sound a very action-oriented series, which it is it also showcases the voluptuous characters flaunting their bodies and competing in semi-naked wrestling matches make it a strictly adult series.
10. Citrus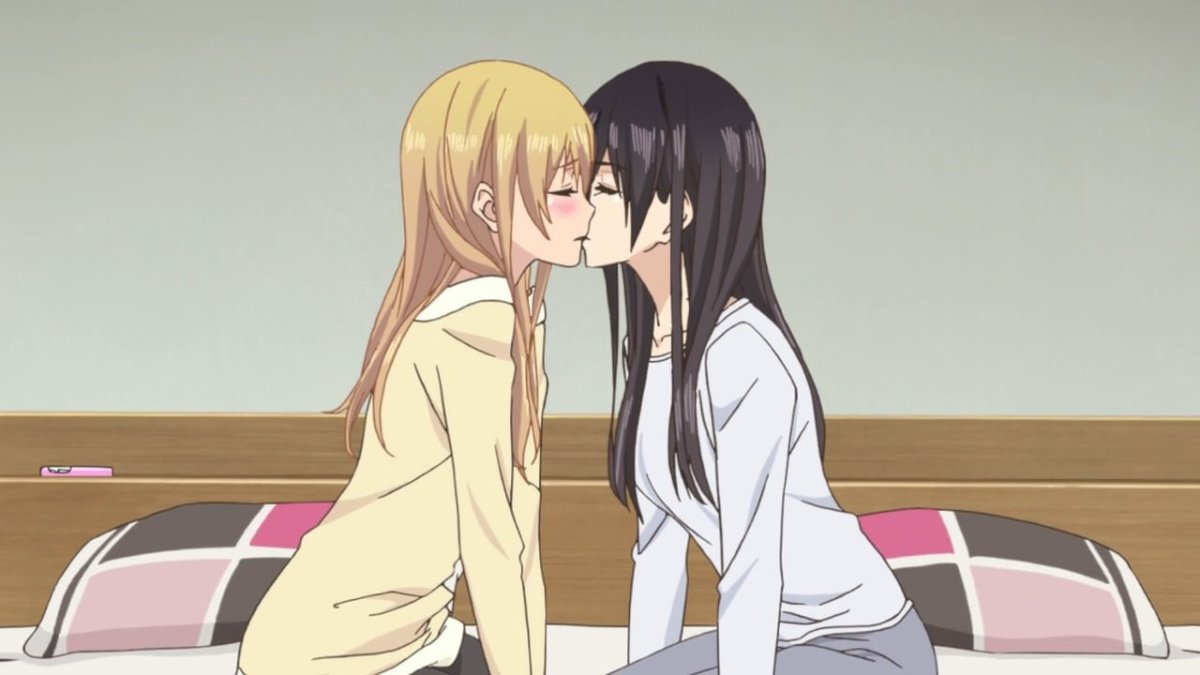 This anime is a highly fashionable and spontaneous story of a city girl to shifts to a new neighborhood after her mother's remarriage. The girl struggles to fit in the new space and clashes with a specific student who she later on finds out her sexual attraction towards her. The series follows the evolution of the relationship between the two girls, to slowly start to discover their sexuality. This is a great series for enemies to lovers trope while spreading awareness about sexuality.
Also read about Top 20 Best Sad Anime Movies 2022 Updated!