Emily in Paris 2022: Leaks, Spoilers, Review, Cast, Plot, Trailer
About Emily In Paris
2021 definitely ended on a good note for the Netflix rom-com fans, because of the new release of another season of Emily in Paris.
Emily In Paris is an American comedy-drama, romance series created by Darren Star for Netflix exclusively.
Who are the Cast and Characters of Emily In Paris:
| | | |
| --- | --- | --- |
| Actors | Reel name | Birth year |
| Lily Colins | Emily Cooper | 1989 |
| Philippine Leroy Beaulieu | Sylvie | 1963 |
| Ashley Park | Mindy Chen | 1991 |
| Lucas Bravo | Gabriel | 1988 |
| Camille Razat | Camille | 1994 |
| William Abadie | Antoine Lambert | Not known |
| Bruno Gouery | Luc | 1975 |
Side characters and guests:
| | | |
| --- | --- | --- |
| Actors | Reel name | Birth year |
| Kate Wash | Madeline Wheeler | 1967 |
| Jean Christophe Bouvet | Pierre Cadault | 1947 |
| Celine Menville | Jacqueline | Not known |
| Lucien Laviscount | Alfie | 1992 |
| Camille Japy | Lousie | 1968 |
| Charley Fouquet | Catherine Lambert | 1976 |
| Victor Meutelet | Timothee | 1998 |
Review For Emily In Paris:
Season 2 of Emily In Paris came out a few weeks ago, and people have a lot to say about this show. Season 1 of the show, received a lot of criticism from the public, Withering reviews, offense from French viewers, and headlines like "People Hate Emily in Paris So Much It's a Global Crisis" blew up on social media.
Plotline:
After landing her dream job in Paris, Chicago marketing exec Emily Cooper embraces her adventurous new life while juggling work, friends, and romance.
Set and filmed in Paris. The series stars Lily Collins as Emily, an American who moves to France to provide an American point of view to Savoir, a French marketing firm. She struggles to succeed in the workplace while searching for love and experiencing a culture clash.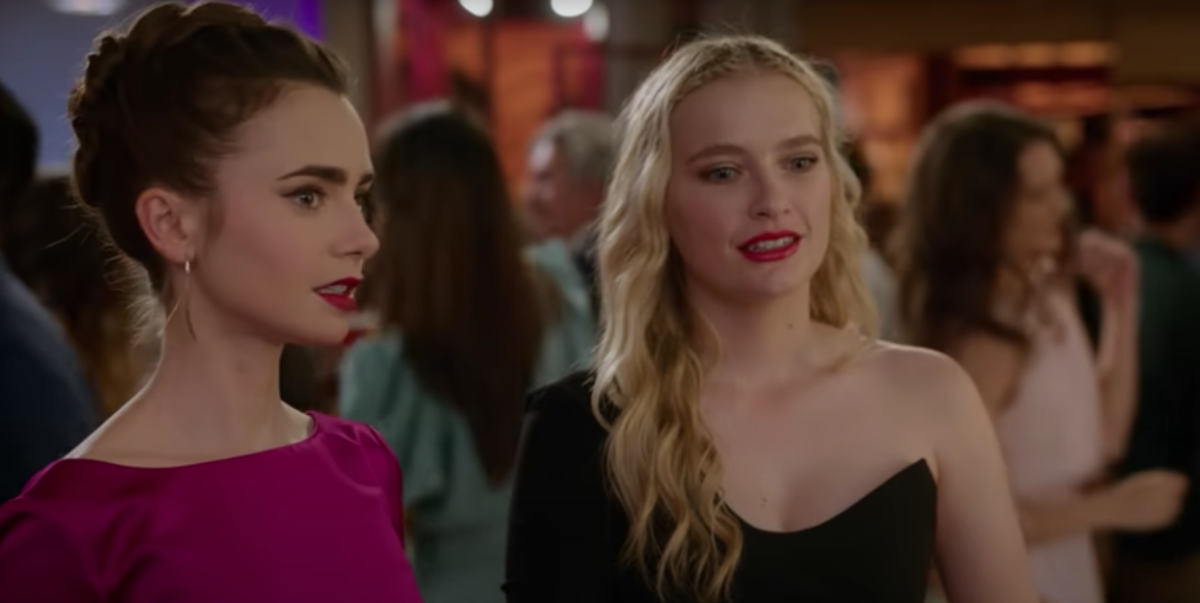 The story begins with Emily In Paris, for her job. She creates an Instagram account, @emilyinparis, and begins documenting her time in Paris. On her first day of work, she realizes that she was only hired because of a business deal, which makes her feel unwanted. While in Paris, Emily lives in an old apartment building and runs into her very attractive neighbor Gabriel, who is a chef and already has a girlfriend. But under unknown circumstances, Emily kisses Gabriel and later finds out about his girlfriend who is Emily's new friend in Paris.  Emily also meets Mindy Chen, a nanny originally from Shanghai, and they become fast friends. With all her professional and personal chaos season 1 ends here. Season 2 picks up from where it ends and shows ups and downs and twists and turns in Emily's life.
Emily in Paris season 2- https://www.netflix.com/in/title/81037371
Will there be season 3 of 'Emily In Paris'?
A return to the City of Love is something that everyone is craving for this season. Since season 2 of Emily In Paris was just released, it's hard to get to know the insights about the show's next season. While we might not about the insights of season 3 yet, Lily Collins did give us some insights and her opinions on season 2 of the show. "I'm dying to know what that decision is, 'cause I don't know. I'm as confused as Emily was," the actress told Elle before season 2 dropped in December 2021. She also said, "I think there's pros and cons to each. I think Emily is blown away that [her boss] Sylvie would want her to come with her. And then at the same time, she now has found this relationship with Alfie and maybe she'd love to go to London. It's only a Eurostar train ride away. So I don't know." So now that Lily Collins herself was unaware about season 2, there is a very possibility that she might have any insights on the next season, but the show creator Darren Star said "She has reasons to pick a number of doors at the end of season 2, and our challenge is deciding which of those doors she's going to choose and why. That's what season 3 is going to be about."
So, now the fans can get excited for the next season of Emily In Paris which would come out in another year.